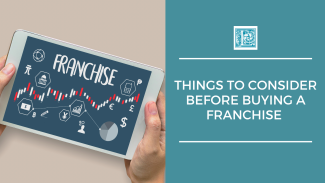 Things to Consider Before Buying a Franchise
There are nearly three-quarters of a million franchise businesses in the U.S, employing more than 8 million workers.1 Though franchises may take away much of the hassle and up-front cost of starting a business, essentially providing a "business in a box," there are also some special considerations to mull over before purchasing a franchise. Below, we discuss just a few of the things to consider before becoming a franchise owner.
What Type of Experience Do You Need?
Some franchises require their franchisees to have certain experience—if you don't have this experience and don't have a co-owner who does, your franchise application might not be approved. Do a deep dive into the franchisee requirements before applying to make sure that you qualify; if you don't, you may need to decide whether it's worth gaining this experience, hiring a partner, or investigating a different franchise to purchase.
How Are Related Franchises Doing?
Franchises sometimes drop their initial buy-in price during tough economic times[1]. While this may seem like a good deal, it's worth considering how your fellow franchisees are doing before deciding a particular franchise is a good business opportunity. Some sectors tend to be harder-hit by economic downturns, and unless you're financially prepared for wild swings in income, you may want to stick to relatively recession-proof franchises that offer products and services everyone needs.
What Is the Cost?
The buy-in cost for a franchise varies widely. Some companies, like Subway, allow you to buy in for just over $100,000 in cash; others, like McDonald's, require nearly $1 million in non-borrowed assets.2 While franchises, unlike other small businesses, often allow the owner to immediately begin to take profits as income, the initial cost may be a major consideration when deciding whether you may be able to afford a franchise purchase.
What Franchisee Rights Do You Have?
As a franchisee, you don't always have the freedom to set costs, products, or even operating hours. Read over the franchise agreement carefully to see what rights and obligations you have.
Pay particular attention to coupons and discounts—if the main company retains the right to issue whatever coupons it sees fit and requires you to accept them, regardless of the hit to your bottom line, you could be on the hook for coupons that cost you money.
What Products and Services Must You Buy?
Many franchised companies also require their franchisees to purchase certain products and services from the main company, even if you're able to access a cheaper product elsewhere. Only by knowing what products your franchise may need—and where you need to get them—may you make a fair assessment of what type of revenue and operating costs you may be able to expect.
Important Disclosures:
The opinions voiced in this material are for general information only and are not intended to provide specific advice or recommendations for any individual. To determine which investment(s) may be appropriate for you, consult your financial professional prior to investing. All performance referenced is historical and is no guarantee of future results. All indices are unmanaged and cannot be invested into directly.
All information is believed to be from reliable sources; however LPL Financial makes no representation as to its completeness or accuracy.
LPL Tracking # 1-05163602
Sources
1 https://www.statista.com/topics/5048/franchising-in-the-us/
2 https://blog.hubspot.com/sales/franchise-opportunities