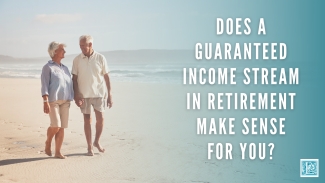 Does a Guaranteed Income Stream in Retirement Make Sense for You?
Everyone's retirement cash flow situation is different. Some people are prepared with enough retirement savings to last their lifetime, others are not.  Still, others are unsure about the 'ups and downs' that can happen to their retirement savings and are concerned about variances in their monthly payments.  If you are one of those people that has concerns about out living your retirement savings, or watching retirement asset values fluctuate as the market fluctuates, a fixed income annuity or whole life insurance policy may be an option for you.
The insurance company that provides permanent (whole life) insurance or fixed annuities can provide various options for retirement income.  This flexibility helps you structure payouts based on your financial situation, regardless of the market at the time you need the money.  For this reason, life insurance and annuities have become an integral part of financial plans. 
About Fixed Annuities:
When utilizing a fixed annuity, there are typically four types of income streams if you purchase an annuity, with the goal of each being a guaranteed lifetime income that you can't outlive:
Life Only- This is an annuity payout on one life; when you die payments cease and there is no beneficiary.  Only one life benefits and if there is any remaining money it is forfeited to the insurance company.
Life with a Period Certain- The insurance company will pay income for the life of the individual.  When that person dies, if there are any years remaining on the period certain a beneficiary will receive the remaining payments.  With this type of payout, the individual would be guaranteed income through their life even if the period certain has expired. 
Period Certain- This allows the individual to decide how long they need the income stream.  If the individual passes away during this time, the remaining payments are continued to the beneficiary.
Joint Life- This provides income for two people as long as either of them is still alive.  If one dies, the other continues receiving the payments.
About Permanent (Whole Life) Insurance:
When using a life insurance policy for retirement income, you're in control of how and when you take payments from the cash value accumulation. 

The life insurance is still active even when taking cash value as long as premiums continue to be paid, or there is enough cash value to pay the premiums.

Use the policy to supplement your retirement during a down market instead of depleting other variable retirement assets
Meet with your financial professional to determine if a permanent life insurance policy or a fixed annuity is appropriate for your retirement savings strategy in addition to your other retirement savings investments. 
Fixed Index Annuities are designed to meet long-term needs for retirement income, and they can help guarantee against the loss of principal and credited interest and may offer the reassurance of a death benefit for your beneficiaries.
Important Disclosures:
The opinions voiced in this material are for general information only and are not intended to provide specific advice or recommendations for any individual. To determine which investment(s) may be appropriate for you, consult your financial professional prior to investing. All performance referenced is historical and is no guarantee of future results. All indices are unmanaged and cannot be invested into directly.
The information provided is not intended to be a substitute for specific individualized tax planning or legal advice. We suggest that you consult with a qualified tax or legal advisor.
This material contains only general descriptions and is not a solicitation to sell any insurance product or security, nor is it intended as any financial or tax advice. For information about specific insurance needs or situations, contact your insurance agent. This article is intended to assist in educating you about insurance generally and not to provide personal service. They may not take into account your personal characteristics such as budget, assets, risk tolerance, family situation or activities which may affect the type of insurance that would be right for you. In addition, state insurance laws and insurance underwriting rules may affect available coverage and its costs. Guarantees are based on the claims paying ability of the issuing company. If you need more information or would like personal advice you should consult an insurance professional. You may also visit your state's insurance department for more information.
Fixed Indexed Annuities (FIA) are not suitable for all investors. FIAs permit investors to participate in only a stated percentage of an increase in an index (participation rate) and may impose a maximum annual account value percentage increase. FIAs typically do not allow for participation in dividends accumulated on the securities represented by the index. Annuities are long-term, tax-deferred investment vehicles designed for retirement purposes. Withdrawals prior to 59 ½ may result in an IRS penalty, and surrender charges may apply. Guarantees are based on the claims-paying ability of the issuing insurance company.
All information is believed to be from reliable sources; however LPL Financial makes no representation as to its completeness or accuracy.
LPL Tracking # 1-05137182